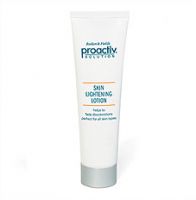 Just saw a commercial for a new Proactive product called
PROACTIVE DARK SPOT CORRECTOR
- beware - the lightening ingredient used in this product is
Hydroquinone
. This ingredient has been banned in the EU since 2001 but not in the US.
Hydroquinone has been shown to cause leukemia in mice and other animals.
This is a common ingredient in whitening/lightening products in the US.
2% is allowed in over-the-counter products and up to 4% in prescription skincare.
Please research. The entire European Union has banned it. This should speak volumes. Our own FDA has stated that hydroquinone cannot be ruled out as a potential
carcinogen
! And yet they have no authority to do anything about it...