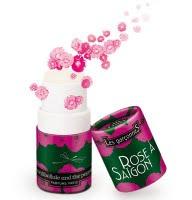 The
Crazylibellule and the poppies
perfume solids have always been a hit in the
store
, but this one is my absolute favorite:
Rose A Saigon
. My previous favorite was
On Cloud Nine
.
I have to admit that this surprised me a bit. I've never been a fan of any kind of rose perfume. Clearly, it must be the combination of the other fragrance notes with the rose because I absolutely love how this smells on me.
On a side note, tune in to
Beauty Shop Trivia
, going on right now!