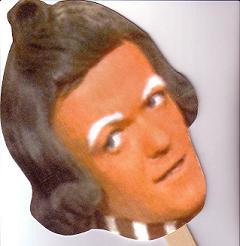 I've been contemplating this post for a while. I knew that IF the video ever came out, I knew exactly what I was going to title it.
On April 30th
, American Express flew me out to NYC to
film a video
for them.
I was quite nervous during the shoot (they wouldn't allow me to bring my cheerleaders. Who do they think they are, not allowing my moral support to accompany me? That is NOT how we do it here in MN.) and when Becky gets nervous, her chest gets blotchy. That led to many visits by the lovely makeup artist to apply bronzer - to even out my skin.
I felt like so much makeup was being applied that I would soon look like
Snooki
.
This caused me a lot of anxiety each time she came over. Ugh. I was certain I was going to look like an Oompa Loompa.
Then the whispering! What was with the whispering?
There were two women in the office we were filming in, that sat at a table, watching a small video screen that showed exactly what was on camera. They kept whispering to one another, the director, makeup artist, etc. Everyone
but
me.
That just added to my anxiety. Was the makeup artist applying too much bronzer? What!?! Someone say something. To me!
After the shoot I walked to
Battery Park
and met up with some friends for cocktails and to recap what the hell had just transpired. - Amex flew me out to NYC that morning and if I didn't have friends to visit, they were going to ship me back home, the same day. My head was spinning.
It was 85 degrees in NYC that day. I was dressed in black, the sun was out and I had 9 lbs of makeup on. Everyone was staring (ok, I thought they were staring) and I simply wanted to be enveloped in my friends' loving and supportive arms and I couldn't get there fast enough.
Have I said how much I like vodka? I do. And, it was especially delicious that afternoon.
So, I have been worried these last 3 months about my makeup and how it was going to look. I know, I shouldn't have. Everyone involved had done this before. They were all trained professionals. I just couldn't help it.
How many times in an hour was that woman going to come over and blast me with golden powder!?
The videos
have finally launched
and now I wish that bronzer could have covered that second chin I'm sporting in the photo. Kripes! I didn't even think about
that
....but there it is. Oy!
Clearly, those two "whisperers" should have been more concerned with finding a more flattering photo of me.
O' well, whatta ya do.
Thanks for the wonderful opportunity AMEX and
BoomBox Inc.
I truly am grateful.